This Catholic Wedding at Tinos Island was full of hues in blues, Cycladic whites, and Mediterranean greens. The ultimate definition of a dream wedding in Greece.
It had it all to make it an unforgettable wedding day in Greece. Every single detail was adding to this magnificent wedding day a sparkle of elegance and romance. It's all about the balance of Greek light and colors!
Catholic Wedding at Tinos
There is no doubt that Tinos is offering numerous and amazing backdrops for an unforgettable destination wedding photography. Aurélie and Philippe wanted to share their wedding day with their family, on their favorite island, Tinos.
Tinos is part of Cyclades Islands in Greece. This alone can transform a wedding into a masterpiece for a wedding photographer. A wedding in Cyclades is a dream for thousands of soon-to-be-married couples in the world. Especially after the long two years of social distancing, many couples express their intention to have their wedding in Greece. Aurélie and Philippe had this goal for some time and the day finally come to life.
Tinos is in the center of the Aegean Sea. It is well known as the homeland of great artists like Chalepas, Gyzis, Lytras, Filipotis, Sochos and the legend has it, that ancient Greek sculptor Phidias had shown his secrets to the local marble sculptors.
Architectural Aesthetics is part of the island's culture. Have you ever seen the amazing pigeon houses or dovecotes in the countryside? People come from all over the world to admire them. The dovecotes enrich the Tinian landscape with their strikingly beautiful ornaments and stone embroideries.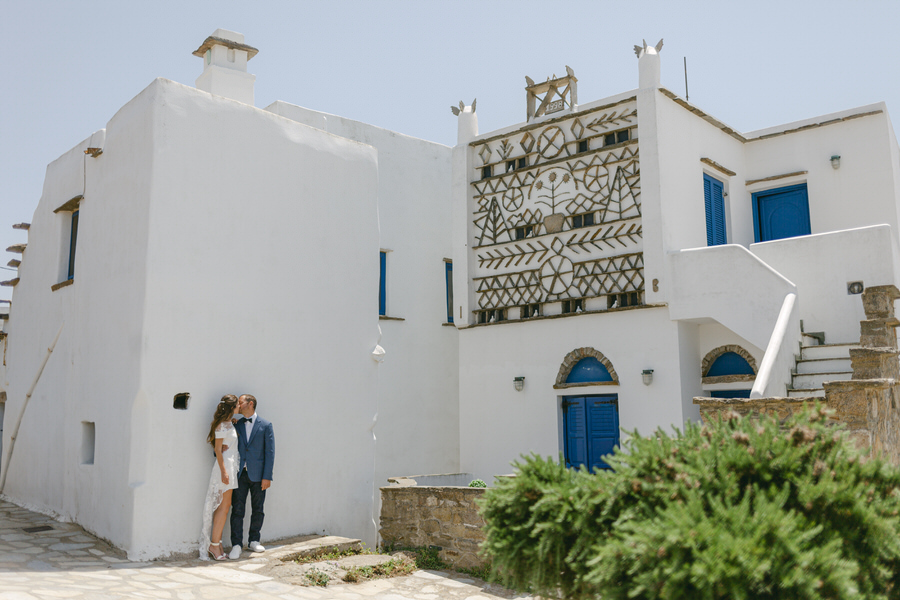 Although Venetians started this pigeon tradition, back in the 18th-century, locals take great care of their ancestors' dovecotes. And we are grateful for that! No wonder why a Catholic Wedding at Tinos or any wedding should include photos with these adorable dovecotes. They look like fairy houses, don't they?
Wedding in Cyclades
I can not hide how much I love Tinos.  It's the sun, the flowers, the houses, the big blue of the Aegean Sea, the white pigeons, the amazing traditional food and the local hospitality that make all visitors fall in love with Tinos Island. The island's aroma is so seductive and intoxicating… It's the perfect scenery for dreamlike wedding photography in Cyclades!
Tinos is a famous wedding destination for a variety of reasons. Firstly, it has so many Churches and little Chapels for couples to choose from. Secondly, the weather is always awesome and the light seems heavenly all year long. What else could a couple ask for their big day?
No matter how many times I have visited Tinos as a Wedding Photographer, in the last 10 years, my heart skips a beat every single time I set my foot on the island. It's part of Tinos magic… to fall in love again and again. You feel like you are back home and you instantly connect with the people around you. I swear that a part of my heart is always at Tinos. Maybe, that's the reason why so many brides and grooms – after their wedding day– refer to me as their closest Greek family friend. It happens every time!
That something blue in a Greek Wedding
The Wedding Planner Christy Lagiou left everyone speechless on the wedding day. She is an experienced destination wedding planner with a keen eye for detail. Christy provides outstanding wedding planning services for couples wanting to have an everlasting wedding experience in Greece. She knows how to make sure that each wedding will only reflect the couple's style, taste and personality. All the professionals involved in this wedding redefined what a unique wedding style actually means. I am really grateful for knowing them:
Videographer: @prisma_audiovisual_projects 
Decorator/Florist: @irinellaflowers 
DJ/sound and lights: @marriageday_wedding_dj_greece 
Catering: @exo_catering