This Botticelli inspired wedding editorial is dedicated to Brides seeking inspiration for their wedding day.  A Botticelli-themed wedding is the perfect choice for brides who want to feel like a queen on their big day. This style will make any bride feel like royalty with its rich colors, opulent details, and luxurious atmosphere. From the dress to the decor, every detail can be tailored to create an unforgettable event that will be cherished for a lifetime.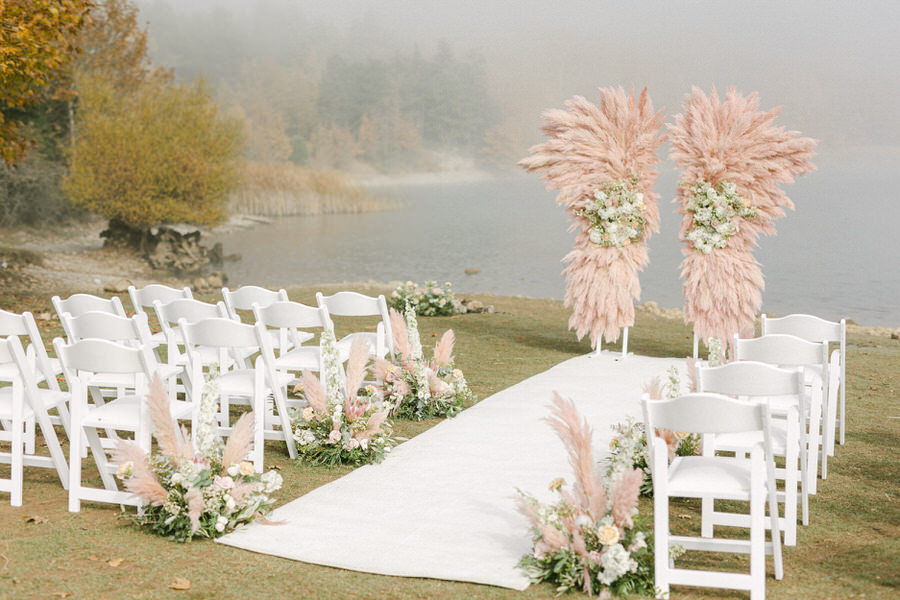 Botticelli Inspired Wedding
A wedding is one of the most important days in a person's life, and for brides who want to celebrate their special day in a luxurious and opulent style, a Botticelli Inspired Wedding is an excellent choice. This wedding style is known for its ornate and intricate details, rich colors, and lavish embellishments, making it a perfect fit for a bride who wants to feel like the center of the universe on her big day.
For an elegant nostalgic wedding, the bride's dress is the centerpiece of the entire event. In this Botticelli Inspired Wedding Editorial, the bridal gown is the epitome of luxury and elegance, featuring intricate lace and embroidery, delicate tulle, and voluminous skirts. In this wedding editorial photo shoot, the bride is adorned with one-of-a-kind jewelry, including fine necklaces, chandelier earrings, and a sparkling ring that adds a touch of royalty to her overall look.
Botticelli Inspired Wedding Style
Starting with the magnificent wedding gown, which is the heart of all wedding themes, this particular wedding dress is a heavenly made design by Made Bride  @madebride. All brides are dreaming of a wedding dress like this divine wedding gown.
The magical hands of the makeup artist and hair stylist @hair_me_by_ioanna aimed to create a classic and refined look that would complement the wedding dress and accessories. By using softer makeup and hair styling techniques, the focus is shifted to the dress and accessories, allowing them to take center stage.
This type of look could be ideal for Elegant Brides who want to feel fabulous on their wedding day, evoking a sense of nostalgia and romanticism. Most professionals know that soft makeup can create a natural and glowing complexion, while the hair can be styled in a classic updo or loose curls to enhance the overall romantic and sophisticated aesthetic.
This makeup and hairstyle have successfully enhanced the bride's natural beauty and allowed her to feel confident and radiant on her special day.
Breathtaking Wedding Reception
This Wedding Editorial can become the reference to help you create your own true masterpiece, showcasing the beauty and elegance of this timeless style. Pay attention to all the details in our wedding photos. We promise you that they are going to be an endless inspiration for brides-to-be who are looking for a luxurious and glamorous wedding that will leave their guests in awe.
As you can see with your own eyes, the color palette for a Botticelli Inspired Wedding should be rich and luxurious but in absolute balance. Deep natural tones like emerald soft green, salmon pink, and pale forest green mixed with lake blue are perfect for creating a regal atmosphere. Gold accents are also essential for adding a touch of glamour to the event. The invitations, place cards, and menus can all feature gold calligraphy and ornate detailing to match the theme.
All the tiny details are a well-coordinated orchestra seducing your quests' eyes.  Any wedding venue can be transformed into a breathtaking work of art with the helping hand of a professional wedding planner. Finding a wedding planner for your wedding day that will respect your vision and personal voice for your big day, is the most crucial decision during the wedding preparations. The Romantic Chic Events Planning, @romantic_chic_events has designed a unique backdrop for this wedding editorial, combining the opulent and luxurious yet romantic Botticelli inspired decor with the natural backdrop of Lake Doxa.
The floral arrangements by Filanthi Floral Design, @filanthi_floral_design added a lavish feeling to the wedding concept. Flowers are an essential part of the wedding decor, featuring rich colors and textures, such as pink pampas, and lush greenery. The wedding cake by Pavlov's Lab, @pavlovs_lab is also a work of art, with intricate details and decorations that match the overall theme of the wedding.
The Wedding Stationery by Meilifluous    @meili.fluous is also carefully crafted, featuring high-quality designs, intricate calligraphy, and elegant paper that sets the tone for the entire wedding celebration, delivering gracefully the wedding personality.
Wedding Vendors
Wedding inspiration for brides-to-be is hidden in the details. Visit all wedding vendors included in this astonishing wedding editorial if you want them to be part of your wedding day.  After all, it's the team behind the bride that makes a wedding stand out:
Photography: Fiorello Photography, @fiorello
Event Planning: Romantic Chic Events Planning, @romantic_chic_events
Floral Design: Filanthi Floral Design, @filanthi_floral_design
Videography: www.lulumeli.com  @lulumeli_com
Wedding Dress: Made Bride  @madebride
Bridal Shoes: Savrani Creations, @katerina_savrani
Bridal Hair Pieces: Savrani Creations, @katerina_savrani
Groom attire, shoes, accessories: Giannetos.gr   @giannetos_since_1907
Hair and Makeup: @hair_me_by_ioanna
Stationery: Meilifluous    @meili.fluous
Art de la Table: @3bizgr
Rentals: Zazou Event Rentals, @zazoo_event_rentals
Patisserie: Pavlov's Lab, @pavlovs_lab
Wedding Ring: Anna Maria Mazaraki  @annamariamazaraki
Wedding Ring Box: The Mrs Box, @the_mrs_box
Venue: Lake Doxa, Greece
Storytelling Wedding Photographer in Greece
I am a photographer. A storyteller and a film wedding photographer. What else can I say? Taking pictures makes me feel that I have found my mission on Earth. I am driven by a deep love for beauty and real emotions. Being an active storytelling wedding photographer for more than 10 years keeps me always on the road for photography adventures.
The beauty of weddings and my love for traveling are the reasons why I chose to become a destination wedding photographer: to witness all the authentic moments and for being able to capture them for you to remember. I want to show you through my images how precious your story is, how beautiful you are…
I want to become the storyteller of your life and wedding and let the important people of your life see the beauty, the passion… To portray the excitement, the joy, the magic… the dreams, the wishes, and your love! My goal is to capture your joyous moments & precious memories!
Let's meet and talk about your wedding. Shall we have a coffee?
Your dreams & plans combined with my awarded photography skills can create the best storytelling wedding photography album. Your wedding album! – Monika Kritikou
Get inspired by our Weddings Portfolio and find out why you should choose a storytelling wedding photographer for your big day!