Featured on Wedding Chicks
I am super excited and really grateful that one of the most beautiful weddings I have covered, is now featured on Wedding Chicks, one of the most influential wedding blogs.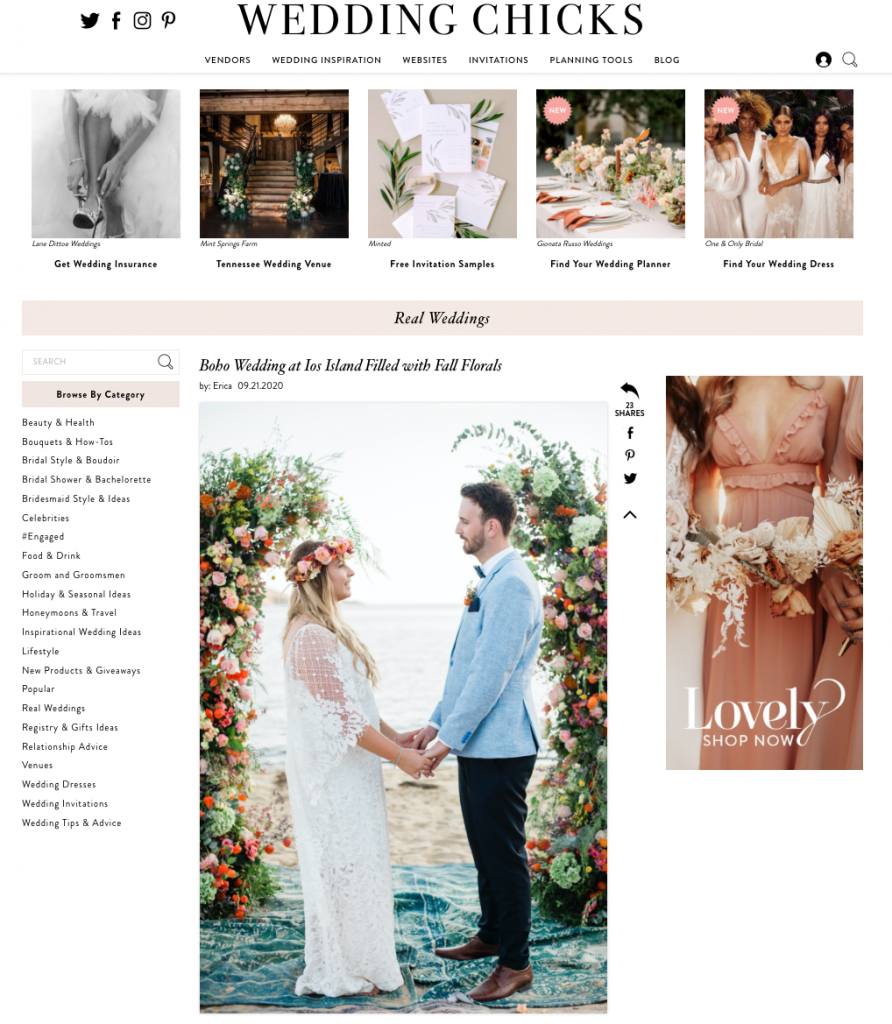 Destination Greece Wedding
Ios Island proved to be the perfect place for their wedding! In Greek, Ios means flower. A Cycladic island that has everything to offer, from whitewashed houses, charming chapels, sandy beaches and dreamy sceneries to archeological and natural treasures.
A memorable day with bright smiles, unconventional fun, strong emotions and of course much love! Having your Wedding on a Greek Island and especially in the Cyclades is what people mean when they say: Live your Myth in Greece. Couples from all over the world are dreaming to have this unique experience. Greece has majestic backdrops and locations for destination weddings. An island like Ios is truly an unforgettable destination wedding photography scenery and this couple wanted to create the best memories for their wedding here in Greece! Continue Reading…
Book your Photographer
I am a photographer. An unstoppable personal storyteller and a film wedding photographer. What else can I say? Taking pictures makes me feel that I have found my mission on Earth. I am driven by love for beauty and real emotions. Being an active storytelling wedding photographer for more than 10 years keeps me always on the road for photography adventures.
The beauty of weddings is the reason why I chose to be a wedding photographer: to witness all the authentic moments and be able to capture them for you to remember. I want to show through my images you how precious your story is, how beautiful you are…
I want to become the storyteller of your life and wedding and let the important people of your life see the beauty, the passion. To portray the excitement, the joy, the magic… the dreams, the wishes and your love!
I am so happy that through my lens I have the opportunity to capture life moments and true emotions. My photography camera is the media that helps me tell a couple's life story and protect memories from fading out. I am a memory keeper. Ready to freeze time and the beauty of life in every single click. Priceless moments are the treasure of every wedding and can be shared with loved ones in the future to come. – Monika Kritikou