Greek Christening in the Waters
This Christening in the Waters had an amazing baptism theme designed by @mbw_events at the spectacular venue @reefathensriviera. 
Reef Athens Riviera, is a modern estate, of high aesthetics, with soft earthly colors and appealing green along with an intense aroma of the Aegean Islands and the winding strands of the Attica Peninsula. It is one of the most magical places on the city's shores, located in the Athenian Riviera at the 35th kilometer of Athinon-Souniou Avenue.
What makes it so unique? For starters, it has a range of 1500m², and it is a fully equipped estate that can host incentives, presentations, parties, and various events, with a capacity of 350 guests for brunch, lunch, or dinner in its cozy, elegant rotundas on the grass or up to 900 for a delightful and refreshing cocktail. The setup offers a warm idyllic atmosphere, while the guests feel at home, by relaxing and enjoying the charming view, a stunning natural decoration that alters colors throughout the cycle of the day or night.
But no venue can be magical without the majestic touch of an exceptional event planner like MBW EVENTS. The MBW EVENTS team has one clear goal every time they organize a christening: To create places where people can store their happiness.  They want to make reference points. Anchors of happy moments to hold on to for a lifetime.
They have a strong passion for the tiny details that make a big difference. They know how to transform a family event into an unforgettable moment for all the family members.  They have the expertise to match the season colors while balancing all the little things that are part of the big day.  They create fairytale experiences that last forever!
Emily Lima's Christening Day
Emily Lima's parents choose this venue because it is close to Sounion which they adore. A Christening in Greece has a way to make you feel like you are walking inside a fairytale destination. Greece, in general, is a top christening destination, especially during late summer and early autumn months due to its mild weather.
During the Christening Ceremony Emily Lima was calm and she was smiling like a little princess. Before and after the baptism, this little angel was laughing and showing her positive disposition with everyone. What a wonderful little lady!
The Christening Decorations were so bright and elegant, tuned in harmony with the flowers and the christening favors. How not to mention the delicious sweets and the cake?  The christening celebrations after the basptism was so warm and full of positive vibes.
My sweet Emily Lima, I wish you for your whole life to be as bright as your christening day!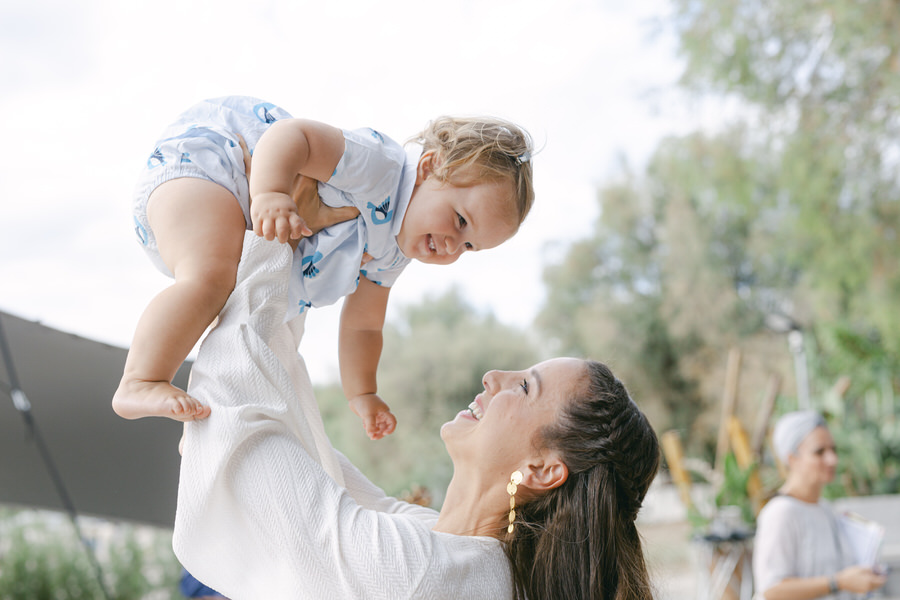 Christening in the Waters Photography Session
You may wonder why a baptism is so important for a family. It is such a big day because all the family members are welcoming the new member into their faith. The photographer is responsible to hold these precious moments for the child when she will grow up. Next to all the important moments of the child's life, also the christening photos eventually will become a part of your child's life story.
After all, we all need a reminder of how our life changed from being a kid, the stages of transformation into a teenager, and later in life from a solo traveler into a family. Haven't you spend hours looking at your parents' family photo album asking them dozens of questions about their first RV, how they meet, how your father proposed to your mother, about their weeding day and all the unseen stories behind your childhood photos?
That's why a photographer plays an essential role in capturing your life story and your child's story from the very beginning. Don't you love it to admire your Couple Photography sessions, then your Wedding Photography and later the Maternity Photography & Newborns? You can hold that loving feeling forever and ever… Years after your child becomes a teenager you can always go back to the Christening Day Photo Album and think how adorable & tiny she was.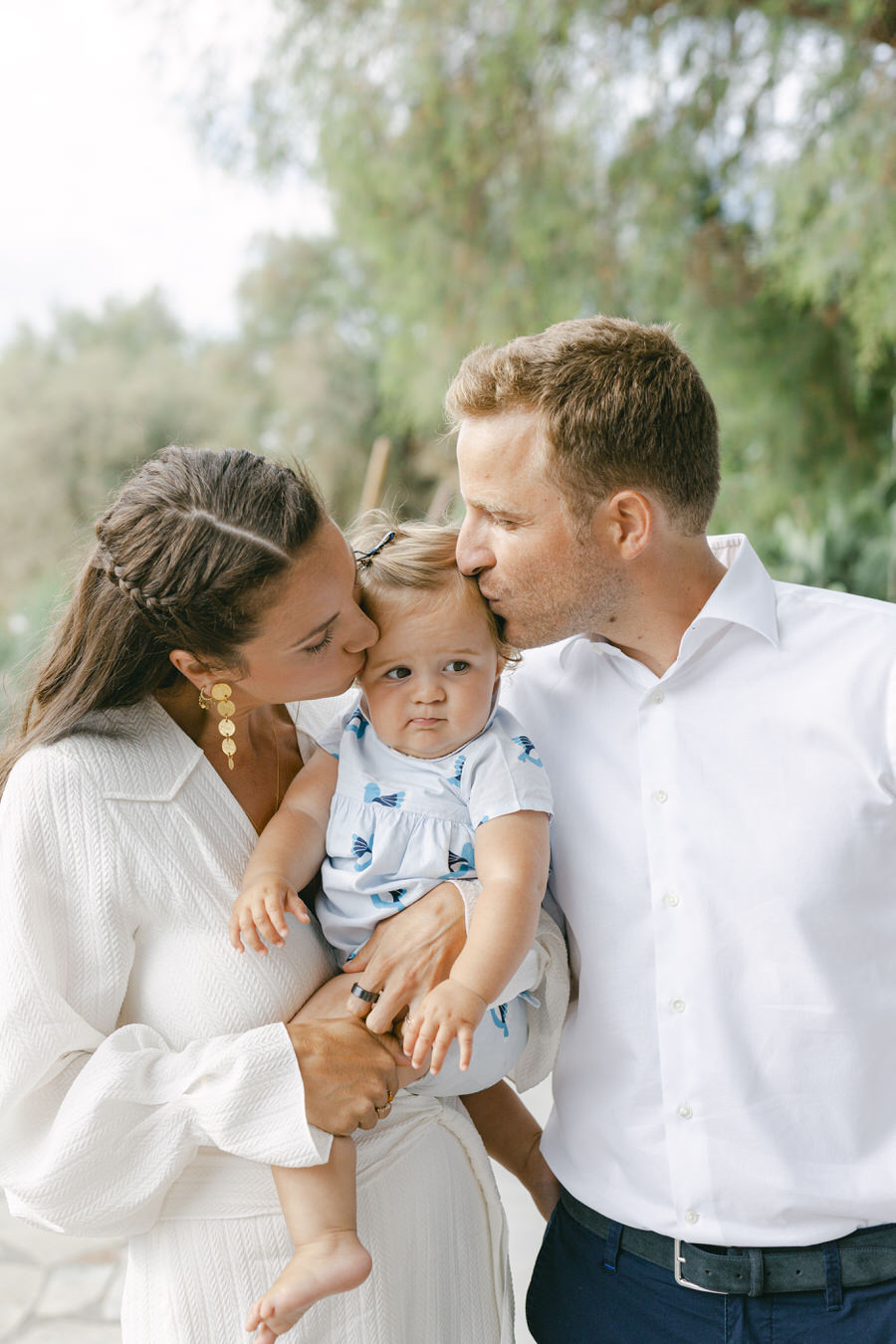 Family Photographer for All Family Events
The power of photos does not stop at the feelings you experience when you see the subject that appears on them. It goes much deeper by remembering the beauty of the moments behind the camera, the exact jiff you've made that tiny, little, instantaneous click.
For me, photography brings into my mind the most wonderful, joyous, relaxed and happy moments spent with my special one or family or friends… So, to an extent, you can say that a good photographer has superpowers… being able to recreate priceless memories that otherwise can be misplaced in our labyrinthine minds… And Fiorello Photography is here to keep your memories alive!
Let's capture your loving family memories!
Feel free to contact Fiorello Photography for your next family event!
Christening in the Waters vendors
Photography @fiorello 
Concept & Design @mbw_events 
Videography @iraklisrigas 
Venue @reefathensriviera 
Furniture @tore_event_furniture_rentals 
Flowers @studio7flowers 
Art de la table rentals  @white_lilac_rentals 
Artwork @bright_white_design 
Balloons @eleni.kountouri 
Favors @houseofmyrtle 
Catering @catering.dipnosofistirion 
Tent @tentickle_hellas 
Cake @thecakersgr