This Baroque Inspired Wedding Editorial will make you adore Baroque Weddings even if it's not your cup of tea. It's true that Winter Weddings have something out of this world. Put the blame on the rare winter wedding scenery and the extreme romance & elegance, for the breathtaking result. A baroque inspired wedding theme is perfect for brides who seek ultimate uniqueness for their big day.
You can never have enough luxurious details when you are planning an extravagant wedding.  The contemporary Baroque wedding style is a combination of Renaissance art details and romantic elements. Baroque design goes back to 1600 in Rome, Italy, and most of Europe, and is known for exaggerated and elaborate details. The period of Baroque was built onto the Renaissance period, exaggerating it with more ornamental decorations.
Baroque Inspired Wedding Editorial
So for this Baroque Inspired Wedding Editorial, the wedding planner & organizer of the editorial mastered the fine art of mixing designs and adding floral and vintage notes. Keep in mind that one of the most inspiring figures from that period is Marie Antoinette so you can imagine that her style was the top influence of this majestic wedding editorial.
Get ready to lose yourself in the world of inspiration from  Marie Antoinette's style, the patterns she wore, and all the glamorous details. Yes, it's a must-do to include Baroque-inspired details in your wedding cake, wedding invitations, and your entire wedding decor. You are not sure how it's going to look? Then dive into the photos and have a glimpse of a Queen looking bride in a Baroque Inspired Wedding at Indoor Industrial Art Space. It's so jaw-dropping, we know!!!
So, If you're dreaming of a Baroque Inspired Wedding, now you have everything you need in this wedding photo shoot. 
Bridal gowns that leave you breathless, elegant costumes, beautiful shoes, amazing flowers, one-of-a-kind jewelry, make-up and hairstyles that make you look stunning. These are only some elements of a bridal day that every bride must choose between gazillion alternatives. Fear not!
That is one of the reasons that professionals and vendors come together to show you the latest trends and how all beautiful brides-to-be can combine them to look fabulous on their big day!
A Big Thank You Note
Photography is the ultimate media for capturing your most beloved moments and turning them into precious memories. This particular editorial photo shoot was inspired by Baroque elements, photographed in a living artistic cell that explores creativity, design, and art.
The location was really something unconventional. It is located in an industrial building in the salty, animated neighborhood of Piraeus (the biggest port in Greece and the second biggest in Europe), once the neighborhood of the metal sheet factories. Luscious, sensuous, dramatic characteristics come in an interesting antithesis with the venue which has a more industrialized character.
Please note that our gorgeous model Ilse has a scar on her spine, derived from an operation. We decided that in the spirit of inclusion (and avoiding "beautifying" with Photoshop human features that are indeed part of life), it should not be removed. We are firm believers in the principle that beauty is unique and comes in all forms. After all, inclusivity invites real people, with real life stories and real bodies in front of the photo camera.
As a wedding photographer, I am deeply grateful for having the opportunity to capture and share so many love stories on their wedding days and also for the amazing people involved in all stages of wedding inspiration photo shoots.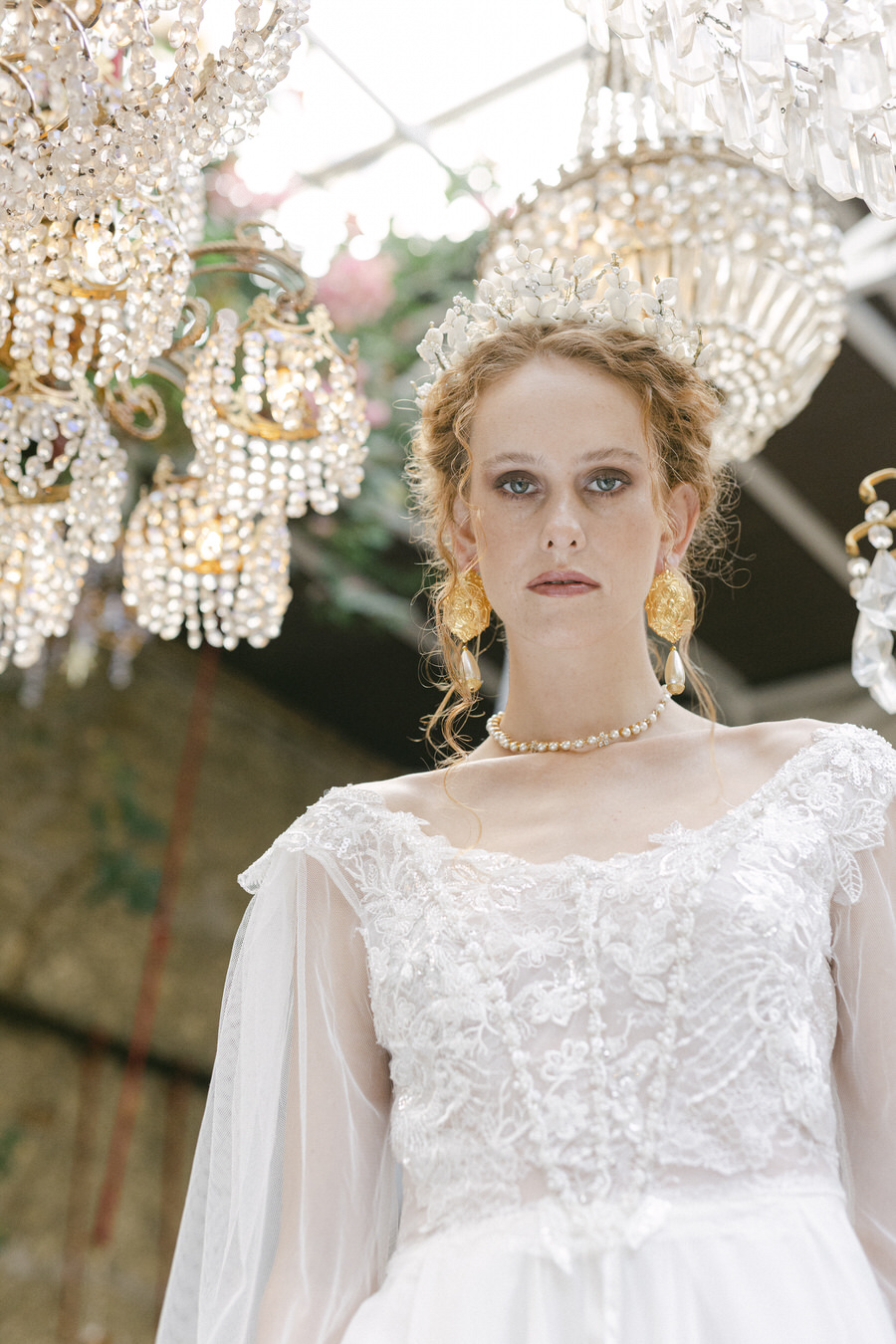 Embrace the Special Relationship with your Wedding Photographer
My top priority is to build a relationship of sincere trust with my clients, as I truly believe that the best way to photograph is first through true connection & respect. The element of deeper human connection is what really transforms a photograph into a work of art because it reflects the unspoken truth of the moment and the colors of the people's personalities. I would never encourage you to skip the importance of communication with your wedding photographer… Who would ever want to be under the awkward feeling of a stranger pointing a camera in their face?
Embrace the special relationship with your wedding photographer and permit him or her to let you feel so comfortable that you will not notice the clicks while you are walking next to your fiancé, or spinning around on the dance floor! Let your wedding photographer capture your secret love language and reflect it through photographs. There is something so unique about the look and feel of wedding photography that is simply magical.
Book Your Wedding Photographer in Greece
I am a photographer. A storyteller and a film wedding photographer. What else can I say? Taking pictures makes me feel that I have found my mission on earth. I am driven by a deep love for beauty and real emotions. Being an active storytelling wedding photographer for more than 10 years keeps me always on the road for photography adventures.
The beauty of weddings and my love for traveling are the reasons why I chose to become a destination wedding photographer: to witness all the authentic moments and for being able to capture them for you to remember. I want to show you through my images how precious your story is, how beautiful you are…
I want to become the storyteller of your life and wedding and let the important people of your life see the beauty, the passion… To portray the excitement, the joy, the magic… the dreams, the wishes, and your love!
My goal is to capture your joyous moments & precious memories! Let's meet and talk about your wedding. Shall we have a coffee? Your dreams & plans combined with my awarded photography skills can create the best storytelling wedding photography album. Your wedding album! – Monika Kritikou
Get inspired by our Weddings Portfolio and find out why you should choose a storytelling wedding photographer for your big day!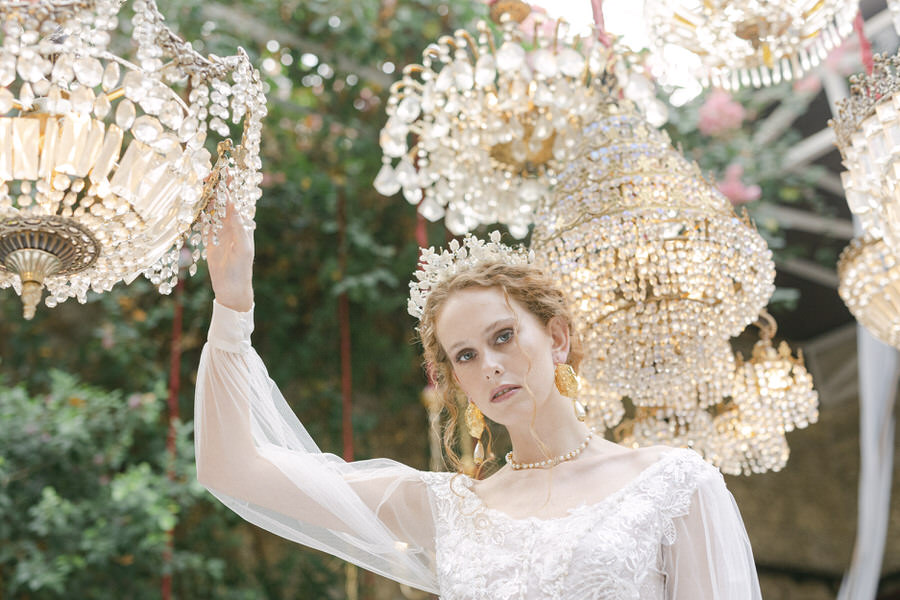 Wedding Editorial Vendors
It's the team that makes a wedding stand out: