Christmas Couples Photography
Santa hurry down the chimney, you are invited to this Christmas Couples Photography! Ho Ho Ho to you, too… today we are in a festive mood.
Winter is perfect for astonishing Christmas Couples Photography and Weddings. Dare to have your own engagement photography near Christmas and make good use of the festive mood… You see, Holidays season has something poetic by definition. Maybe is the colors and the combination of different flower's smells. The Winter scents, make me feel more nostalgic and more positive to romantic elopements far away from the city.
Winter Photography Season
Winter wedding inspiration can be found anywhere in the city!  After all, the whole concept is to make an unforgettable wedding regardless of the season. Indoor weddings or better yet, Christmas feeling weddings are sparkling and spectacular. Dare to do a Christmas theme couple photo shoot or wedding and you will never regret it. Who isn't bright and merry during Christmas?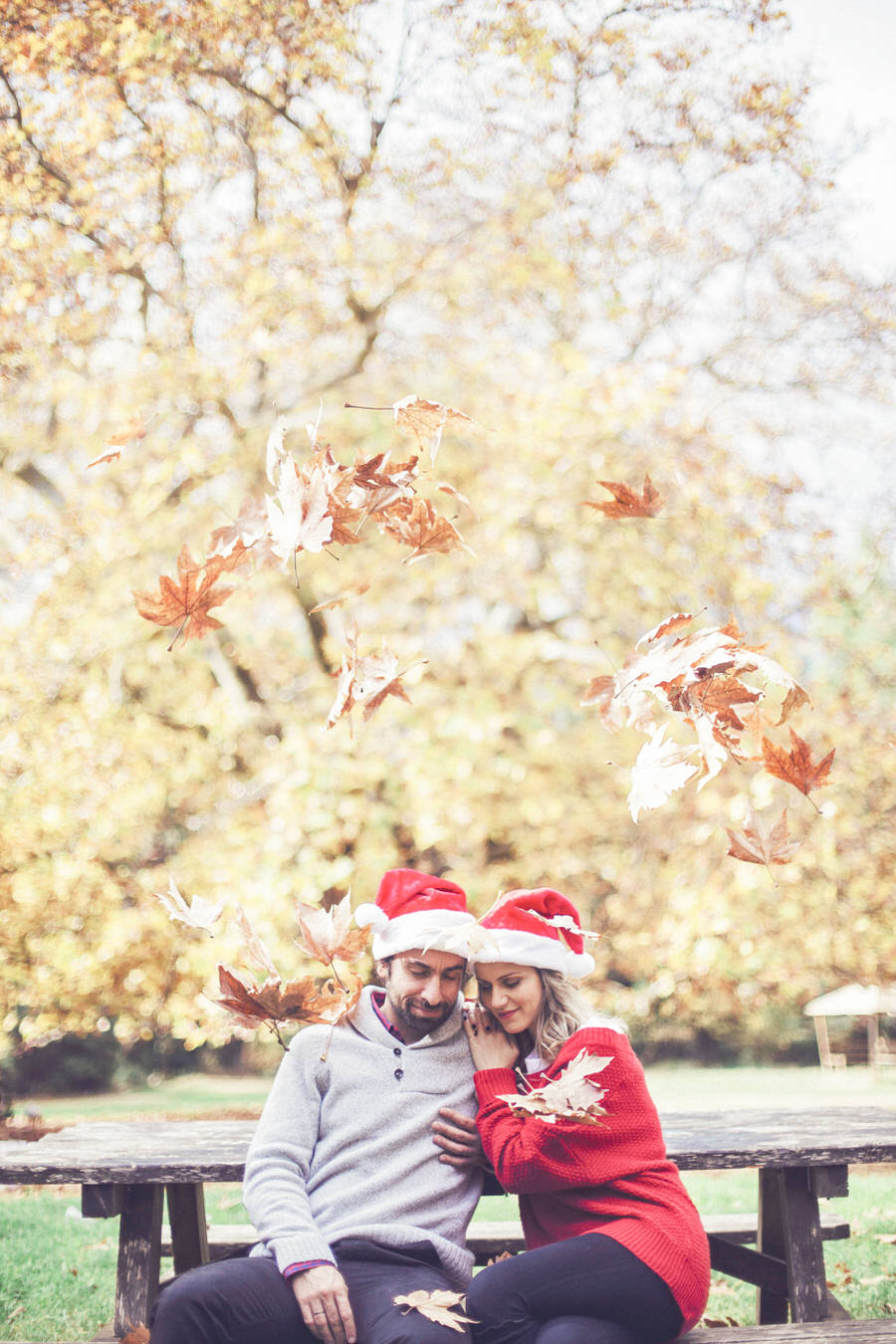 If indoors isn't your thing then find the perfect spot for your sweetheart and you, and create the vibes you want. In most cases, wedding planners can provide exceptional  Christmas or Winter concepts for your photo session. Grab your favorite boots and blanket, hot chocolate and some easy to carry boutique furniture pieces and relax. After all, under the sky love is the ultimate magic element for all of us!
Christmas decorations and lightings can create an outstanding atmosphere for you and your sweetheart. At this wonderful time of the year, the colors are magnificent and quite suitable to announce your engagement or your new baby! Christmas is a celebration of pure love and generosity.
Now you know why the song asks from the Santa to hurry down the chimney! Because you want to hold and kiss your beloved one under the mistletoe…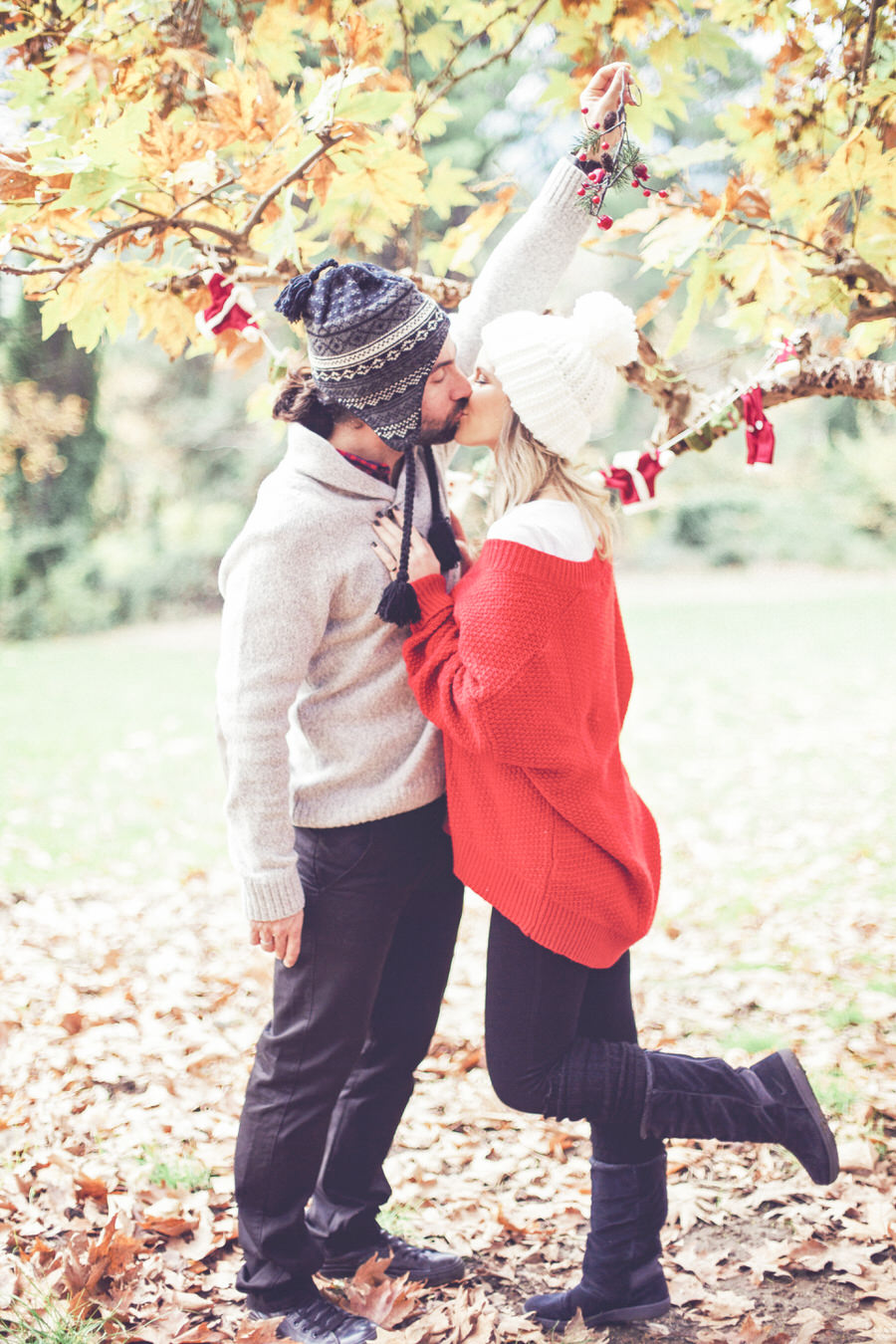 Pop the question next to the Christmas tree
Christmas Spirit makes all of us smile. There's nothing more Christmassy than decorating your  Christmas tree with your sweetheart, adding the ornaments, frosting it with the last details and gathering all the presents for Christmas Eve.
If you both adore winter and festive decorations, then it would be just wonderful to pop the question next to the Christmas tree, when she least expect it.  So as you admire your tree, is the perfect moment to propose. Just remember to have the ring with you! She will lose her words and will treasure the moment forever!
Hint: you could surprise her by adding the ring at the last ornament and just when the tree is all set up.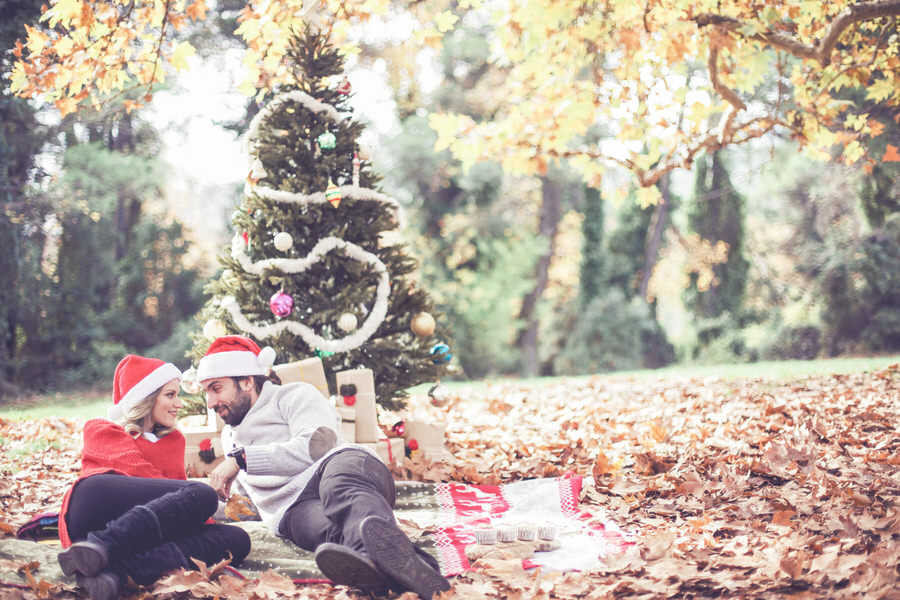 Sing to her
Do you both prefer the old good traditional Christmas songs? What better way to start your new life together than proposing to her with a carol? Oh Holly Night, will you be mine forever? Will you marry me?
I have a friend that was secretly in love with a girl that grew up in the same neighborhood. He managed to attract her attention by singing the Christmas Carols with a guitar, every single year. When they accidentally meet again 10 years later in London, she still remembered him as the boy with the best voice.
That Christmas Eve he surprised her by singing her favorite Holly Night, outside her apartment. She was so thrilled that invited him in and the rest is history…  They had their wedding in the following summer. Their love story is part of that magnificent next-to-the-fire Christmas stories that never lose their thunder.
So, never underestimate the power of Christmas!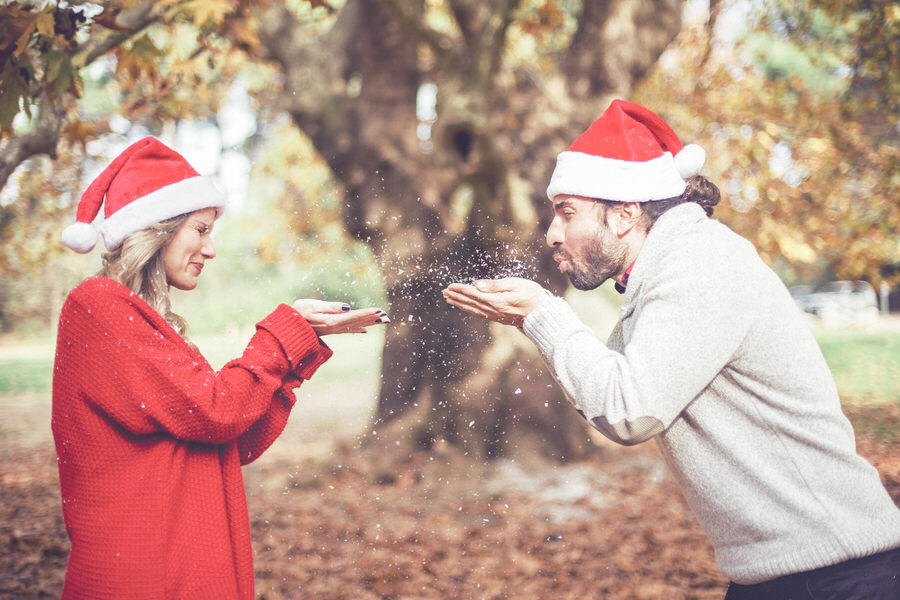 Be Her Santa
Have a good night sleep together and first thing in Christmas morning, surprise her with an extra present. Put the ring in a box, inside a box, inside in another box and then in another box… Make her get a little bit upset with the effort to open all the boxes. In the beginning, she will think that it may be a Christmas Day practical joke.
Wearing all the Santa looking outfits would make the moment unforgettable. Christmas breakfast that literally is a life-changing experience! Or you can take her to a winter picnic with an outdoor Christmas tree decorations. Of course, that means that you have to do the extra mile, hours before she would wake up, in order to prepare the setting.
Keep it simple but well organized. People tend to be a bit cranky early in the morning… so you better have the best hot chocolate ready and many yummy Christmas desserts. If she's just woken up and is still wearing her pajamas, give her a minute to get ready for your adventurous Christmas picnic.  Hey, don't forget to capture these unique moments! Hire a private photographer and save your super romantic proposal day.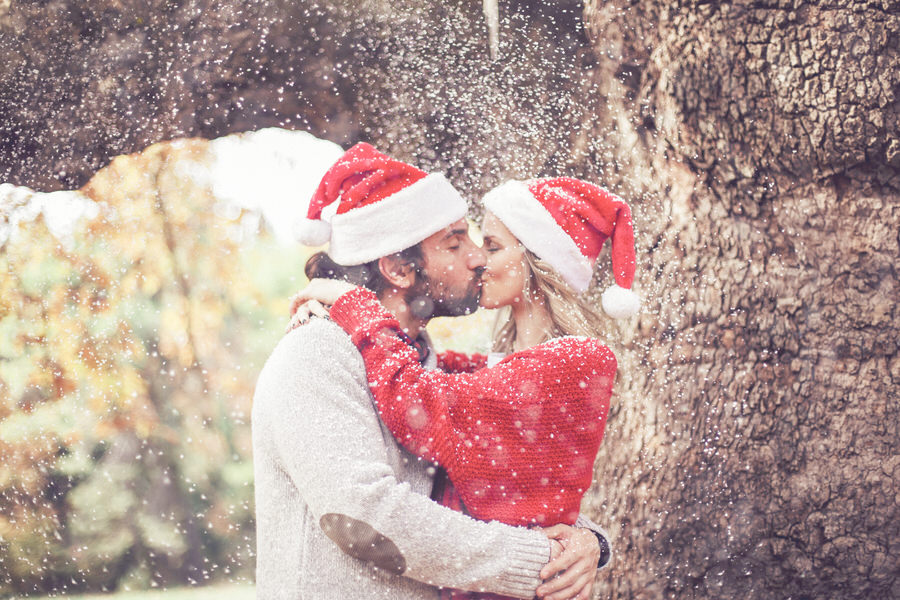 Prepare your Proposal
Practice makes perfect… so you better practice the way you are going to pop the question in front of a mirror. Pick the right words, choose the best location and of course get a ring she won't resist. If you are not sure which ring to buy, call her best friend and trust her opinion. She knows!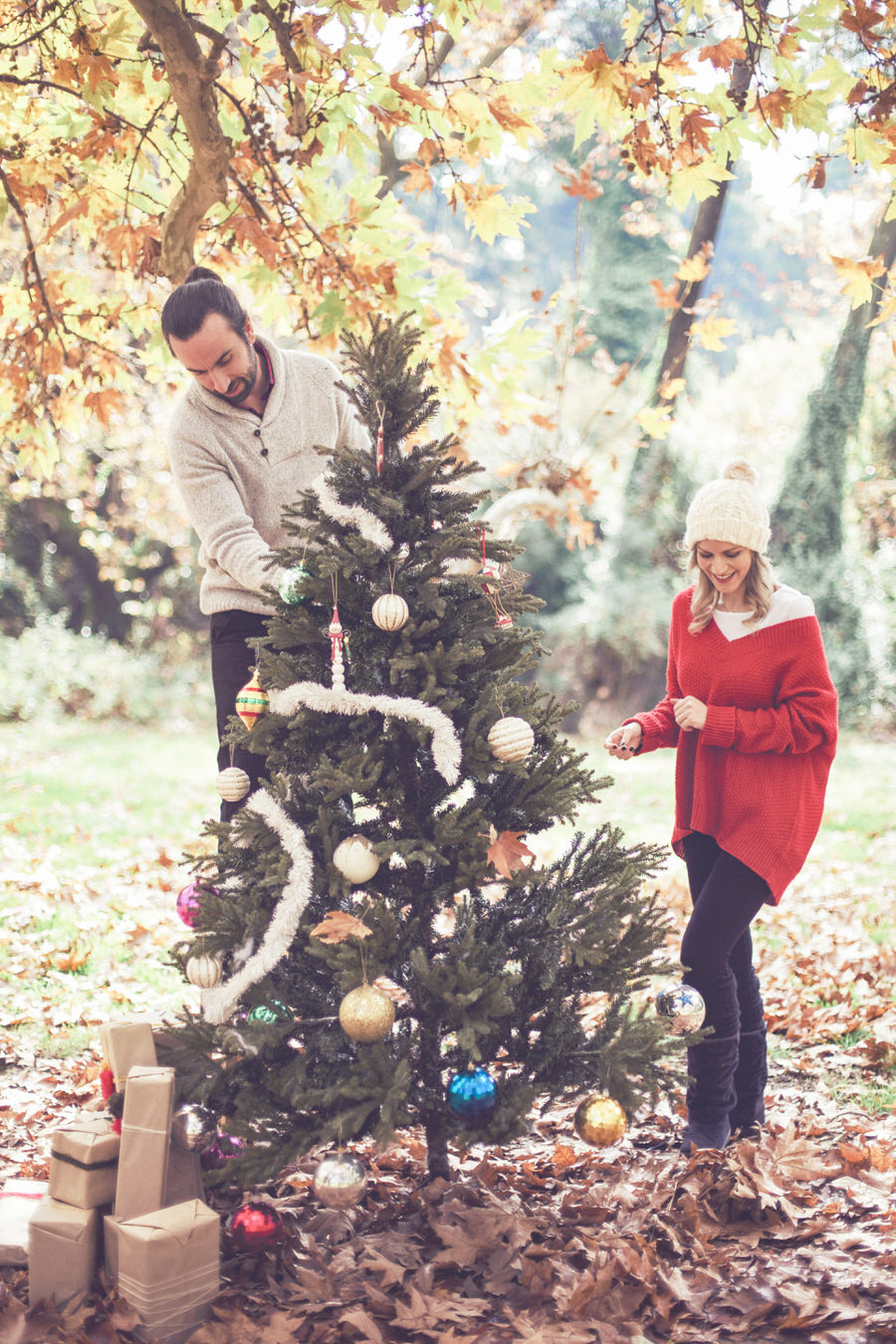 Capture the moment
Book your Private Photographer and document secretly this outstanding day of your life. Arrange all the details before the proposal day, such as which part you wish to capture and walk with the photographer around the location. Having a professional photographer taking pictures of your genuine reactions will set you free to enjoy the moment.
I want to become the storyteller of your big day and let the important people of your life see the beauty and passion of your love story. To portray the excitement, the joy, the magic… the dreams and wishes that come true on the day you start a new life together!
The beauty of weddings is the reason why I chose to be a wedding photographer: to witness all the authentic moments and being able to capture them for you to remember. I want to show through my images you how precious your story is, how beautiful you are…
I am a photographer. An unstoppable personal storyteller and a film wedding photographer.  I am driven by love for beauty and real emotions. Being an active storytelling wedding photographer for more than 10 years keeps me always on the road for photography adventures.
Do you want more details? Then feel free to contact me…