B.Loved
We are really happy to announce that Chic Wedding Styled Shoot in Spetses, was recently published at the B.Loved.
"This Chic Wedding photoshoot took place during a beautiful spring afternoon when the sun was giving us wholeheartedly its sweet light. Dimitris & Katerina look their best in their stylish tux and magnificent wedding gown. Poseidonion hotel is an aristocratic milieu and this was pinpointed by the entire design: the chic details, the linens and tableware, the flowers, the invitations, the desserts… Every single element was there to contribute to what this wedding setting was all about: elegance!"
Fiorello Photography shares this modern city destination wedding inspiration with us.  It has a contemporary color palette of black with cheerful pops of fuschia pink and lovely lilac shades and a splash of gold. Don't miss the clear Louis chairs which really help to create that fashionable modern edge to a beautiful classical space.
Bespoke Wedding in Greece
With its ambiance of refined luxury and impeccable service, the Poseidonion Grand Hotel is the ultimate venue for a wedding in Spetses. At this magnificent and elegant venue, all your dreams come true! The location offers a truly unique destination wedding in Greece. Having the brides slowly walking down the antique marble staircase, while guests cheer and throw flowers, you feel like you are part of a book. A book about love and beauty!
Magical weddings need a wizard to make them happen. In this case, Think Happy Events Team organized to perfection one of the most elegant & chic weddings I have ever seen. Think Happy Events is an inspired boutique event planning company based in Athens with specialization in destination weddings all over Greece. Chrysoula is the founder of Think Happy Events; with more than 14 years of event planning and design experience.
https://www.instagram.com/p/BvJ2rsOnMN2/
Chrysoula and her talented team specialize in creating intimate weddings and unforgettable memories. She is famous for her close attention to details, being pro-active, with exceptional problem-solving skills and energetic idea generation. Chrysoula's mission for Think Happy Events is to embrace joy, fun and big smiles in every event.
But no wizard could create miracles without the right tools and ingredients. The linens and tableware was a true inspiration from White Lilac Rentals. This company has pointed out the true definition of pure elegance. White Lilac literary dresses up the tables of the most important events of your life!
They carefully choose the textures and the colors that suit your event best. Also, they pick up the perfect porcelains and crystals that will make your setting look glorious and then they take care of all those small, yet important details that make the difference, like the napkin rings or the chair covers! White Lilac is taking wedding tables from ordinary and functional to super stylish and memorable! Continue reading…
Real Weddings in Spetses
We have fallen in love with Spetses and we can not hide it. And why should we? The island of Spetses gives chills to all beauty lovers… Something is coming over me just by recalling my walks on the island of Spetses. It brings out my romantic side!
Apart from the wedding styled shoot that you saw above, I 've been in Spetes several times for real weddings and christenings. Have you seen this lovely couple wedding?
Stephanie and Christopher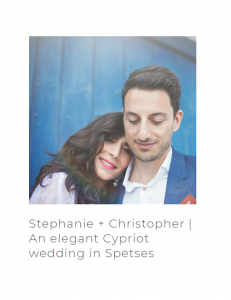 There are not many times that I remain speechless. But this time, having to capture the wedding of an amazing couple as Stephanie and Christopher, enjoying the one of a kind island of Spetses and being part of an amazing team, left me in awe.
Since Stephanie and Christopher are from Cyprus we first met through Skype, and then we had the chance of meeting in person and discussing all beautiful wedding details during their pre-wedding photo session in Athens. 
The wedding day started with their preparations at a beautiful complex that gave us a unique backdrop. Stephanie relaxed and elegant while Christopher full of energy and meticulous showed us why opposites attract.
The beautiful little church of Agios Mamas, near the port of Spetses, was decorated in such an elegant way and all details were taken care of by My Best Wishes Events. Summer is hot in Greece but nobody got thirsty!
The ceremony, simple and full of sentiments left us all with a little tear of happiness for the couple that just got married…