This luxury tropical wedding styled shoot is taking us to a chic colorful paradise, made to take our breath away! It had everything a soon-to-be-married couple wants to see before starting to plan their wedding.
Many young couples are dreaming to have a wedding in Greece, but only a few dare to dream of a super luxury tropical wedding theme. This styled shoot makes it crystal clear that is absolutely sensational to mix luxury with tropical tones for your big day.
Luxury Tropical Wedding Theme
Greece is a beloved wedding destination in Europe and has the perfect scenery for all different types of wedding themes. . Have a good look at this well-organized styled shoot and add it to your wedding plans. When I first saw the wedding organizer's concept I was totally amazed by the carefully selected design elements and the exceptional organizing plan.
Truth be told all tropical flowers are irresistible. Especially Strelitzia (birds of paradise) when mixed together with palm leaves and impressive peonies are perfectly divine. Of course, everything looked perfect thanks to Mint To Be Events, giving us an unforgettable styled shoot that took us to exotic destinations. The concept behind the shoot was to create a fresh approach to a luxury tropical themed wedding.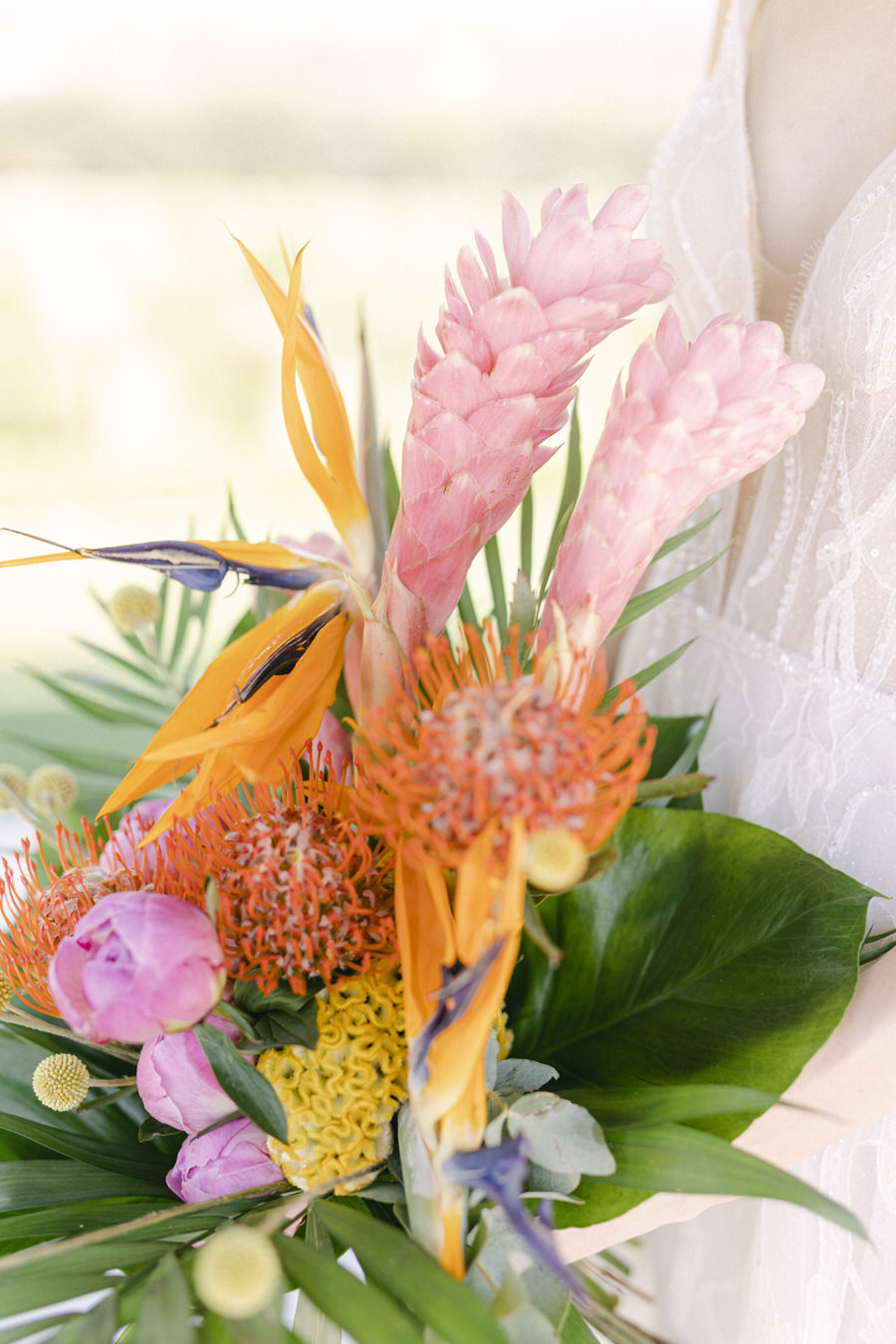 This is a Tropical Wedding Heaven
The reception table was decorated with two tropical bouquets on golden stands and together with the luxurious crockery and the tall thin candles give the trigger for the feminine presence to come to the fore. Bright orange, pink and green lightens up every photo with their presence, giving us a unique sight!
The airy wedding dress by Eleni Kollarou, made many heads turn, as it was full of small subtle sparkles next to the seductive deep neckline. How not to surrender to the feminine presence flourishing all over the place?
Making a wedding day special it takes more than just an idea, it needs the professional hand of a wedding planner like Mint To Be to coordinate and leave an astonishing mark on the beautiful setting, bringing together every decorative detail.
The bride's look looked fabulous, completed by white wedding shoes from Savrani Creations with luxurious details, but also an amazing headpiece also from Savrani Creations with impressive stones in soft shades.
We enjoyed one of the best wedding styled shoots ever.  When everything is well organized then you feel free to create a wedding photography portfolio album. This wedding styled shoot seemed to take joy from colors. We adored it and we have the wedding pictures to prove it. Enjoy them!
Wedding Styled Photoshoot featured on Love4weddings.gr
Vendor Credits
Your Destination Wedding Photographer in Greece
People keep asking me what is a Destination Wedding Photographer and what is the difference from a wedding photographer. Both are photographers specializing in weddings. But a Destination Wedding Photographer is able to support the challenges of a far away from home destination and can provide full photographic coverage of a destination wedding.
In order to become a Destination Wedding Photographer, you must shoot a variety of destination weddings. By that we mean, all the weddings that couples have planned to happen at a gorgeous destination of their choosing away from home. Bear in mind, that what sounds idyllic for a wedding ceremony and celebration it's not always so great to catch in wedding photography.
The opportunity ahead for couples to celebrate their marriage at a destination away from home and their local environment could become a bit tricky for an inexperienced wedding photographer. Soon-to-be-married couples tend to choose difficult-to-approach destinations.
Think about that… couples are getting married every day all over the world. Especially in Greece, we have a tremendous number of destination weddings in the Greek Islands, for almost 10 months per year. Don't get surprised if you find yourself hanging over a cliff to get the best wedding picture or staying on foot for 24 hours, in a location that you are not familiar with weather & light conditions.
Being the photographer at a destination wedding in Italy, Greece, Malta, Spain, France, Africa, Turkey, USA may look fascinating but demands a high standard of specific preparation for each country. After some trips to these countries, I have come to the conclusion that everything may seem the same but nothing is.
For example, a destination wedding photographer in Italy should know the local light conditions, the local traditions, and the local rhythm of life if he/she wants to get the best results for the newlyweds. What works best in one country doesn't work in another. Read this guide if you are planning your wedding and you are searching for an experienced destination wedding photographer.